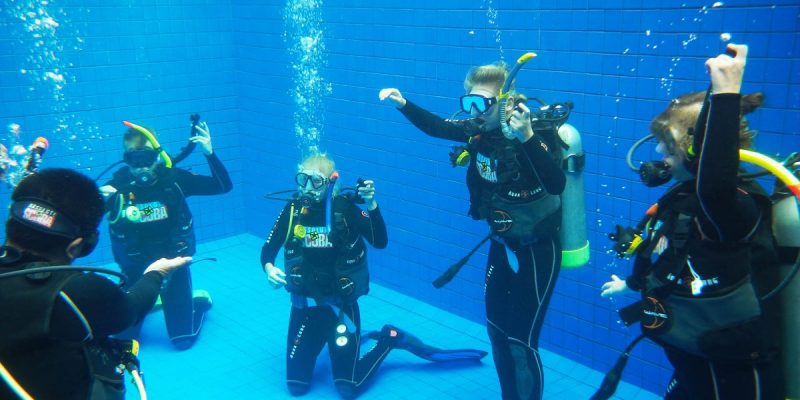 The PADI Open Water Course is a popular choice for those looking to take their first steps into the world of scuba diving. This comprehensive course is designed to teach beginners the essential skills and knowledge required to dive safely and confidently in open water environments. This article will explore the various components of a PADI Open Water Course and what you can expect as you embark on your journey of exploring the underwater world.
Understanding the PADI Open Water Course Structure
The PADI Open Water Course is divided into three main sections: knowledge development, confined water dives and open water dives. Each of these sections focuses on different aspects of scuba diving, ensuring that you gain a well-rounded understanding of the sport and its associated safety procedures.
Knowledge Development – This section of the course involves self-study, classroom sessions and online learning. You'll cover essential scuba diving theory, including dive planning, equipment, safety procedures and basic underwater navigation. This theoretical knowledge will provide a solid foundation for your practical diving experiences where you'll expand on these concepts through practical exercises.
Confined Water Dives – Once you've gained a basic understanding of scuba diving theory, you'll move on to confined water dives. These dives take place in a swimming pool or other controlled environment, allowing you to practise essential scuba skills in a safe and comfortable setting. You'll learn how to set up and use your equipment, communicate with your dive buddy and practice buoyancy control, among other skills.
Open Water Dives – The final section of the PADI Open Water Course involves four open water dives, typically conducted over two days. These dives will take place in a natural body of water, such as a lake or the ocean, allowing you to experience diving in a real-world environment. During these dives, you'll apply the skills and knowledge you've gained throughout the course, demonstrating your ability to dive safely and confidently.
Meeting the Prerequisites for the PADI Open Water Course
Before enrolling in a PADI Open Water Course, you'll need to meet certain prerequisites to ensure your safety and success in the program. These requirements include:
Being at least 10 years old (12 years old for some dive centres)
Having basic swimming skills, including the ability to swim 200 metres without stopping and tread water for 10 minutes
Completing a medical questionnaire to identify any potential health issues that may affect your ability to dive safely
Choosing a PADI Open Water Course Provider
When selecting a dive centre or instructor for your PADI Open Water Course, it's essential to choose a reputable provider with experienced and certified instructors. Look for a PADI-accredited dive centre, as this ensures that the facility meets the organisation's high standards for safety, equipment and instruction. You should also consider factors such as class size, available resources and the location of the dive centre to ensure that your learning experience is enjoyable and convenient.
Continuing Your Scuba Diving Journey
Upon successful completion of the PADI Open Water Course, you'll be certified to dive independently with a buddy in open water environments up to a depth of 18 metres/60 feet. However, the learning doesn't end there. Many divers choose to continue their scuba education by pursuing advanced courses, such as the PADI Advanced Open Water Diver or PADI Rescue Diver certifications. These additional courses can help you develop your skills, increase your confidence and unlock new diving opportunities.